For sure you are aware of what just happened in the Philippines, particularly in the Visayan region. Super typhoon Yolanda hit Leyte and Samar that you can't imagine how bad it is. The storm surge almost like a tsunami clears out the land and leave a huge damaged on property and dead bodies that until now government still don't have the exact number.
In connection, everyone is making their move to help the people of Leyte and Samar. And by this, I'm making my little contribution and in hope that my readers will read this post, calling your attention and touching your heart to help the people of my country.
There's so many ways that you can extend a help. Here's some groups that you can contact to make donation.
UNICEF Philippines
SM Supermalls
ABS CBN Network
You can make a cash deposit through this following accounts. Any amount will make a big contribution in this situation. The network also launched a commemorative shirt that you can purchase for 250 pesos in ABS CBN store and proceed will go to help the victims.
YABU Ph
Zark's Burger
Zark's Burger will give 20 pesos donation for every Jaw Breaker order.
Bronuts Ph
Have a great satisfaction over their foods while having a little help to provide foods for the in need.
Garage Sale
Anne Curtis garage sale in Market Market Taguig. Shop and Help.
Red Cross PH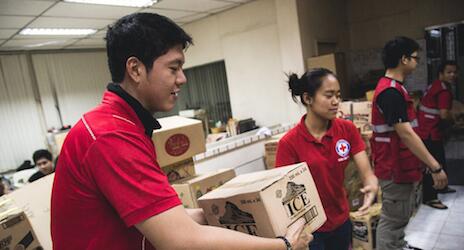 You can also make monetary donation or just do volunteer works. Help to pack relief goods or be a field volunteer. These will much appreciated by the people.
There's a lot of ways to make a help. You don't have the reason not help the people in need. No matter what it is counted and contributed. Be bless by your good deed. Let's help to improve the situation and put the high spirit of "bayanihan".
According to the news, there's a lot of foreign countries already pledge their donations and also other groups and public figure making their own ways to contribute in the work.
#YolandaPH #BangonPilipinas